90,000 reasons to smile because 90,000 community members will be smiling and full.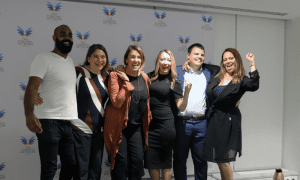 On March 30th we were blessed to have the support of the AMP Foundation to raise much needed funds for PlateItForward.
To those in the audience and online who encouraged us, laughed with us (rather than at us which is normally the case) and most importantly supported us with your generosity, thank you! And most importantly a heartfelt thank you on behalf of the 90,000 customers who will enjoy your kindness.
To our friends at the AMP Foundation who have been so kind and giving to us and the wonderful team at The Funding Network whose efforts made this possible, we are so appreciative.
The night was surreal and your kindness has given 9 future chefs, like Brendan, the foundations to learn their trade and cook for those in need.
Words cannot describe the impact that is created by your support and how when we come together, we can truly make a difference.
Thank You!