PlateitForward has partnered with Deputy and Mirvac to provide 100,000 meals to those in need including casual, migrant and other minority groups of shift workers that are not eligible for government assistance during this lockdown.
Sydney's extended lockdown impacts all of us in many ways, however many shift workers from vulnerable communities are currently unable to work and feed their families. From our local baristas, shop assistants, hairdressers, cleaners and beyond – our shift workers have kept our cities going throughout the pandemic. Now, it's our turn to step up to help.
We are calling on those who can to #GiftAShift this August and help provide 100,000 meals for vulnerable workers impacted by food insecurity at the moment. This small gesture represents all of us getting together and helping those who really need it when they need it the most.
To us, this campaign is about more than food. It represents the connection between all of us, from tech companies to large property groups, working together to let customers know they are valued, they are seen and that we are thinking of them and providing them with something small, but meaningful to make things a bit easier.
The funds raised will not only support 100,000 people which is huge but will also provide employment to people from marginalised communities who will be employed to prepare the food. 
As little as $10 will provide five hearty meals, $20 gives ten meals, $100 gives 50 meals and so it goes! Can you gift your shift? By giving little and large, together we can deliver 100,000 meals. If you are in need of support, a meal or want to help but can't financially please don't hesitate to reach out.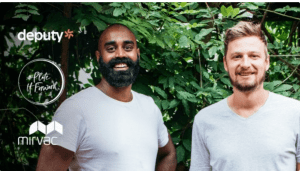 Together, let's back our shift workers who are the backbone of our economy and ensure everyone can make it through this lockdown.
Learn more and make a donation HERE
#KeepingBusinessTogether #plateitforward